SIMCOE COUNTY'S HOME OF AGNIHOTRA
FROM THE ANCIENT VEDIC SCIENCE OF BIOENERGY, MEDICINE, AGRICULTURE, AND CLIMATE CHANGE, AGNIHOTRA IS A GIFT TO HUMANITY
         Agnihotra is an ancient science given in the Sanskrit language at the time of creation. Sanskrit was never anyone's mother tongue; it is a language of vibration. We can make changes to the atmosphere with Sanskrit mantras and fire prepared with specific organic substances. This is performed exactly in line with the sunset/sunrise biorhythm. This ancient fire performed at sunrise and sunset:
cleanses and purifies the atmosphere
reduces stress
leads to greater clarity of thought
aids in alcohol and drug de-addiction
nourishes plant life and neutralizes harmful radiation and pathogenic bacteria
harmonizes the functioning of Prana (life energy)
purifies water resources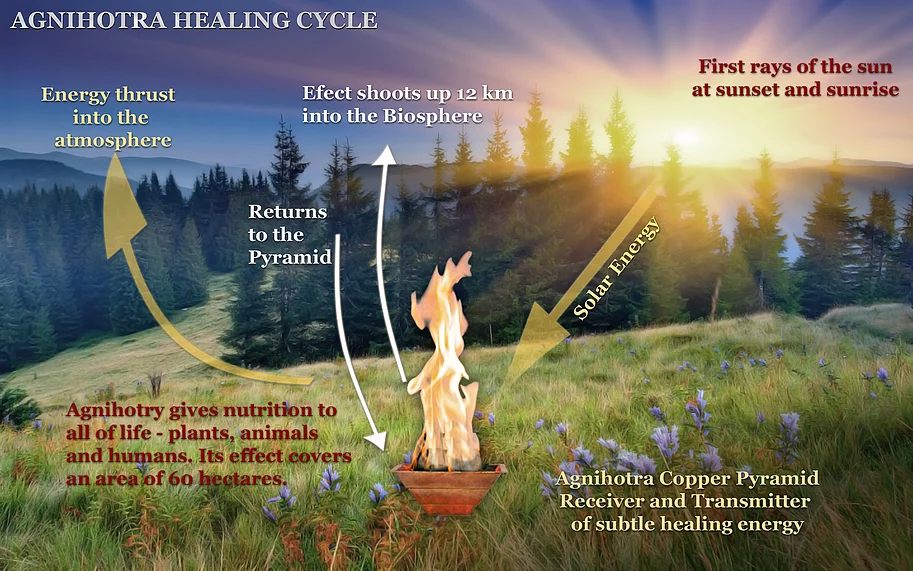 Anyone can perform agnihotra and heal the atmosphere in his or her home.
Join us…
We are here, to teach all who wish to learn, the practice of Agnihotra.